DIVERA 24/7 - cloud-based software
for Public Safety
What is DIVERA 24/7?
DIVERA 24/7 is a web-based database for effective and targeted personnel deployment in the areas of civil protection and disaster relief, pre-planned neighborly assistance in public safety.
DIVERA 24/7 records, analyzes and visualizes the availability of firefighters, rescue services and numerous other emergency services.
DIVERA 24/7 helps to optimize the scheduling work at the control center. Through new disposition strategies, the control center acquires abilities to meet demand-driven, real-data-based alarms. DIVERA 24/7 optimizes the release levels at an emergency and thus improves the degree of attainment at the protection target.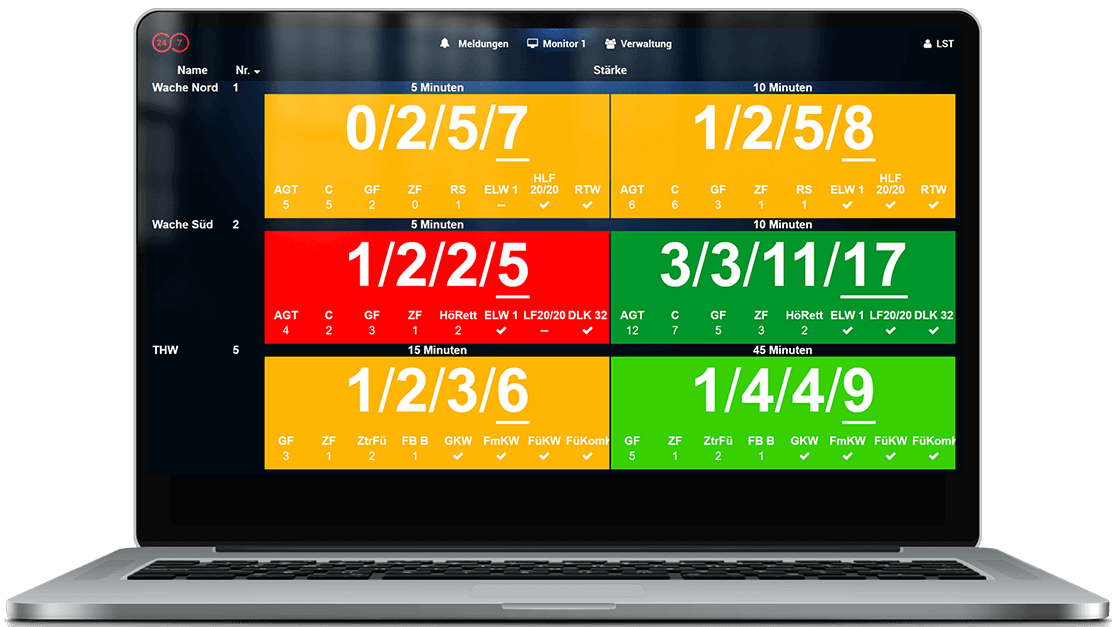 Why DIVERA 24/7?
In addition to receiving assistance from the population, alerting is an essential task of the control center. This must be done as quickly as possible and as required. In practice this leads to difficulties, especially in the voluntary sector, since the availability of these forces can be badly determined. The internal organization of the volunteer fire brigade was based on the regular social commitment of the participants over the last decades, in order to ensure the necessary availability of the emergency forces. The ever-increasing urbanization and globalization require an ever-increasing flexibility and mobility of the worker who is often no longer active in the home environment or is exposed to working conditions that make him more difficult to pursue voluntary activity. As the number of volunteers and their availability are constantly decreasing, the logical conclusion is to monitor the scarce resources more accurately and thus to use them optimally.
What can DIVERA 24/7 do? – How DIVERA 24/7 works?
DIVERA 24/7 provides an overview of how much personnel and the qualifications available at any time
DIVERA 24/7 offers the possibility to communicate appointments and messages within the unit quickly and securely
DIVERA 24/7 offers the possibility to forward alarms directly to authorized personnel
DIVERA 24/7 provides a permanent monitoring of the protection targets of the respective unit with the control center view
DIVERA 24/7 warns if the warning thresholds are exceeded. Machinists or respirators
DIVERA 24/7 can be individually adapted to the needs of your unit
DIVERA 24/7 offers the possibility of a detailed analysis of the qualitative and quantitative personnel availability for the requirements planning
DIVERA 24/7 offers the possibility of advance planning. Personal passports are already recognizable with DIVERA 24/7 several days before
DIVERA 24/7 helps optimize the disengagement process by optimizing the disengagement levels and thus improving the protection target
DIVERA 24/7 shows you which vehicles have the required qualifications
Apart from the tactical advantages, DIVERA helps 24/7 with the internal organization of the voluntary unit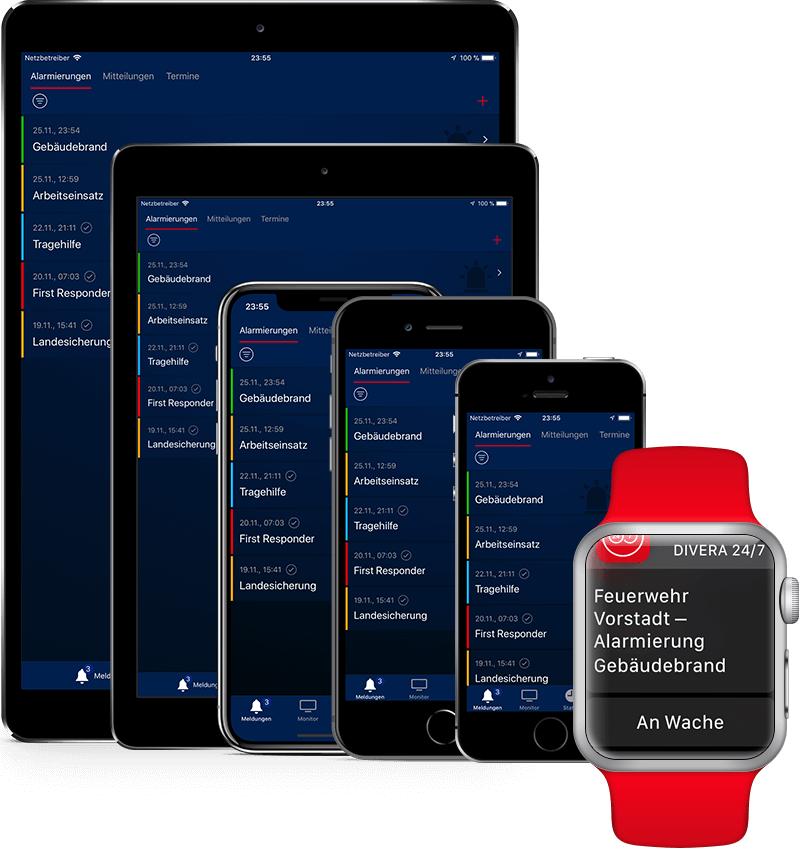 Alarm App for free
These are the core features of our free app:
Targeted phone alarm via push notifications with immediate availability response
Loud alarm in do not disturb mode, custom alarm sounds and reading of alarm text
Immediate alarm response on lockscreen
Statussetter to specify the availability
Geofence functionality to set your availability automatically when entering or leaving places
Forward planning of your stand-by duty with personal calendar
Warning on staff shortage via push notifications
Configurable alarm monitors to display the personnel availability
Displaying the status of operational vehicles
Internal communication via news, surveys and events with response options
Several user roles with a single login
Sign up today for a free demo of Divera 24/7 FREE